Like most of you did I spent yesterday morning watching one of my favorite runners cross the finish line of the Boston Marathon in first place. The first American to do so since 1983.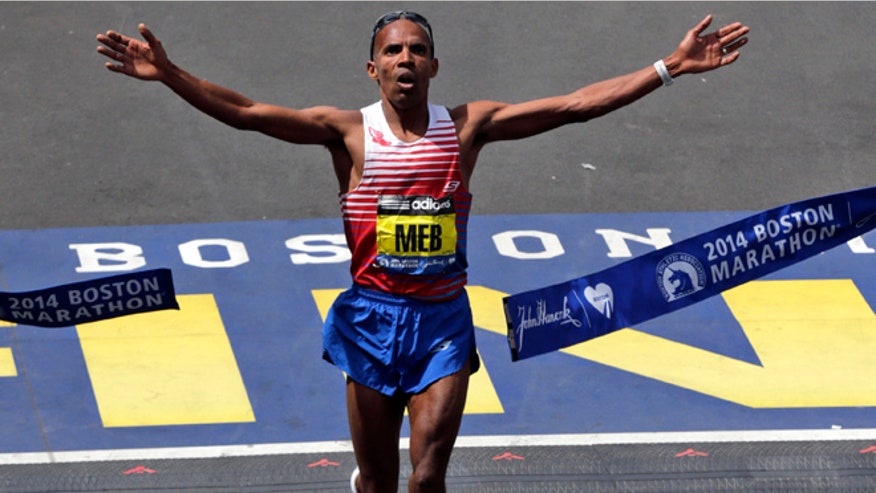 Meb Keflezighi has been a favorite of mine
ever since I read his book Run to Overcome
a few years ago. He is a true hero, someone who has to overcome amazing things to win. He almost retired last year but after the awful bombings last year at the finish line he decided not to retire and come back and run Boston.
He did it in amazing fashion. I teared up, which is seriously something I never do, as I watched him cross the finish line. This is a man who turns 39 in a couple weeks. Many said he was too old. A few years ago Nike dropped him. Getting dropped from one of the biggest running sponsors is not a small thing. He was picked up by the new to the business of running shoes Sketchers, and a few "lesser" companies, but that didn't stop him either. He has dedicated his life to God, to live up to God's standards in all he does. Although I've never met him, I respect him more than I can say.
Yesterday I looked for my other favorite American male marathoner. Ryan Hall. I didn't see him anywhere in the top results and I was disappointed and sad for him. His past few years have also been plagued by injury and disappointment. This was his first marathon in a couple years. It was supposed to be his big comeback.
Ryan's wife Sara posted this photo on
her instagram account
:
She said that pretty much describes his day, it was tough. I was sad that things didn't go well for him.
This morning,
I read this article
.
Seriously, click on it and read it
. It describes how Ryan used some tactics similar to what you often see in cycling. He basically realized that if Meb, who had already broken away up front, was going to have a chance to win the race he had to keep the chase group from attacking. When other American runners went to go past the chase group, Ryan would stop them. He knew that to keep Meb safe up there he had to sacrifice his own time, his own race, and his own efforts, to help his friend, and rival, win.
That isn't an easy thing to do in the sport of running. In cycling you're all on a team, and if your teammate wins you share the spoils. In running each person runs as an individual. Not only do you not share in the spoils when a fellow countryman, or shared sponsored runner, wins the race, but often if your results aren't within a certain limit you will have your own pay cut.
Ryan's finish at 20th place is I'm sure far outside those limits. I'm sure that his finish not only didn't get him any prestige or bonuses, but in fact probably cut his base contract pay.
He knew that for Meb to win, he couldn't, but he did what he could to make it happen anyway. That, my friends, is the mark of a gentleman. Ryan, who has often been blasted for his believe in God above all else, helped his fellow man. Meb brought tears to my eyes and pride to my heart yesterday morning as I watched him win, but Ryan brought the Spirit of God to my heart as I read of what he did.
I know that some may feel I'm overstating what Ryan did. Some may say he wasn't going to have a good result no matter what he did. In a world where every result counts towards or against your livelihood I think it was a bigger sacrifice than many of us think.
I, for one, am so proud that Ryan and Meb and I am so glad they represent my country and my belief in God.